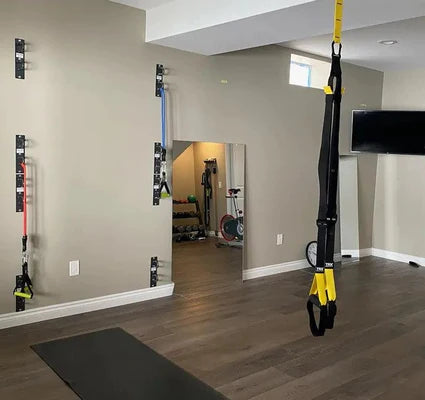 The Impact of the Anchor Gym System on Full-Body Workouts
Unleash Your Fitness Potential with the Anchor Gym System
In the ever-evolving realm of fitness and exercise, the Anchor Gym System has emerged as a game-changer. This unique, patented, wall-mounted anchor system is revolutionizing full-body workouts, offering unparalleled versatility and convenience. Whether you're a fitness enthusiast just starting your journey or a professional athlete looking to enhance your training, the Anchor Gym System can help you take your workouts to the next level.
The Power of Versatility
The Anchor Gym System is designed to be fully compatible with all types and brands of exercise bands, suspension trainers, battle ropes, and straps. This compatibility opens up a world of possibilities, allowing you to perform a wide range of exercises targeting every major muscle group in your body. From resistance band workouts to suspension training, the possibilities are endless with the Anchor Gym System. The versatility of the Anchor Gym System means that you can tailor your workouts to your specific needs and goals, whether you're looking to build strength, improve flexibility, or enhance your cardiovascular fitness.
Designed for Safety and Durability
Safety and durability are at the heart of the Anchor Gym System's design. One of the standout features of the system is its patented safety hook. This unique design ensures that your workout equipment is securely anchored, providing a safe and stable platform for your exercises. This means you can focus on your workout without worrying about your equipment. The Anchor Gym System is backed by a satisfaction and lifetime guarantee, so you can exercise with confidence knowing that your fitness equipment is built to last. This robust construction and attention to safety make the Anchor Gym System a reliable and trustworthy addition to any fitness routine.
Maximizing Your Home Gym Space
The Anchor Gym System is a smart home gym solution that takes up zero floor space. This makes it an excellent choice for those with limited space at home. You can easily install the Anchor Gym System on any wall, transforming it into a versatile workout station. This space-saving design means that you can enjoy a full-body workout without needing a large home gym. Whether you have a dedicated workout room or just a small corner of your living room, the Anchor Gym System can fit seamlessly into your space.
Endless Exercise Options
With the Anchor Gym System, you're not limited to a specific set of exercises. You can perform a multitude of workouts targeting different muscle groups. Here are some examples:
Resistance Band Training: Use medium to heavy bands to perform core crunching trunk rotations, chops, and presses. Resistance band training is a great way to build strength and endurance without the need for heavy weights.

Suspension Band Training: Perform a variety of bodyweight exercises like push-ups, pull-ups, and squats. Suspension training is excellent for improving balance and flexibility, as well as building strength.

Large Loop Band Training: Great for lower body exercises like squats and lunges. Large loop bands provide resistance that can help to strengthen and tone your legs and glutes.

Power Conditioning Rope Training: Ideal for high-intensity interval training (HIIT) workouts. Power conditioning ropes can help to improve your cardiovascular fitness and burn calories.

Dynamic Stretching: Use the Anchor Gym System for a wide range of stretching exercises to improve flexibility and mobility. Regular stretching can help to prevent injuries and improve your overall performance.
Check out these beginner exercises demonstrated by Ryan McKenzie on his Anchor Gym system in this YouTube video. These exercises are a great starting point for anyone new to the Anchor Gym System, and they can be easily adapted to suit your fitness level and goals.
A Fitness Solution Endorsed by Professionals
The Anchor Gym System has received rave reviews from fitness professionals and enthusiasts alike. Tony Horton, the creator of P90X, has praised the Anchor Gym hooks, stating, "I love the Anchor Gym hooks!" This endorsement from a fitness professional of Horton's caliber speaks volumes about the quality and effectiveness of the Anchor Gym System.
Users have also commended the system for its easy installation, multitude of exercise options, and sturdy design. These testimonials from real users provide valuable insights into the many benefits of the Anchor Gym System. From its versatility and ease of use to its robust construction and safety features, the Anchor Gym System has proven to be a valuable addition to any fitness routine.
Get Started with the Anchor Gym System Today
Ready to elevate your fitness routine? Visit The Anchor Gym to learn more about this innovative fitness solution. You can also download our free exercise library app for a variety of workout ideas using the Anchor Gym System. This app provides easy-to-follow exercise demonstrations and workout plans, making it easier than ever to get the most out of your Anchor Gym System.
Remember, the key to a successful fitness journey is consistency and versatility. With the Anchor Gym System, you have the tools you need to keep your workouts varied and engaging. Start your fitness journey with the Anchor Gym System today and discover the difference it can make in