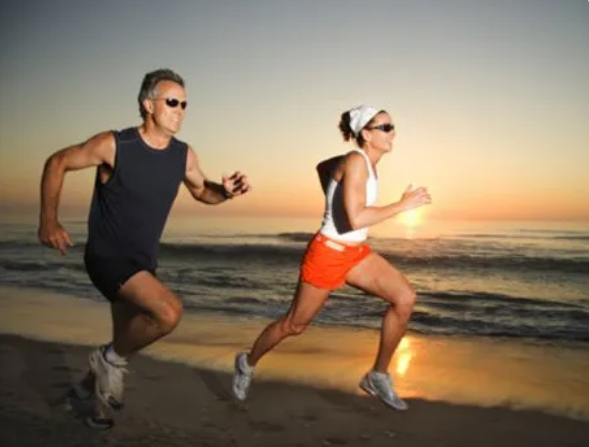 TIPS FOR RUNNING ON VACATION
  HOW TO STAY FIT AND HAVE FUN
Planning an off with family this summer and having a race right after the trip? No, this would not be that big of a problem if you succeed in reading this article till the end!
Running can be the go-to choice for many people to stay healthy and active and thus many runners cannot even imagine their day without scoring a good run. With this problem being comprehended, let's take a look at the possible tips for running on vacation stated below that one can adopt to stay fit and have fun while being on a vacation.

You may read it as being said, 'Get the hard tasks/goals achieved beforehand'. Having a certain mileage to achieve on a weekly or fortnightly basis can be easily done by organizing the run spans.
Before leaving for a trip, one can go for a long run,  have shorter run spans on your vacation and come back to have long runs again.
This way one can achieve the set target mileage, enjoy running on a frequent basis and give time to travel acquaintances.

HAVE A CUTBACK WEEK PLANNED:
Another great way to keep the significant run time minimal while on a vacation is to plan quite a few tougher weeks in advance of your vocational trip and then plan a lenient one for your vacation.
This gives you the perfect ultimatum to have your runs on a vacation just to enjoy and relax yourself instead of having to worry to meet a set mileage criteria.

It naturally occurs weird to leave your travel companions and have something planned to do alone and since spending family time together is what an essence of a vacation originally is, why not doing everything together?
Why not you plan with your family to do this activity of staying fit together while having the usual fun! 
This way it would not feel a burden on you as well and who knows someone ends up finding what they'd want to be in future!
There are plenty of other activities that help one stay fit while being on a vacation and wouldn't it be cool to get to do an activity that relaxes your mind as well as lets you enjoy the perks of being on a vacation?
Exercise is exercise. You don't necessarily have to change into a tracksuit to do so. You can do it while doing something you enjoy 
You can go on swimming, cycling, walking to different sightseeing spots instead of getting a cab whilst exploring all the views amidst the routes, hiking and loads of other activities that you can go for with your travel partners!
Mix and match the activities you want to do with the activities you have to do.
Staying fit, specifically on a vacation, doesn't ask for a specific pace, intensity, and span. 
You don't have to pick up a very high pace for a longer time to stay fit. Just for once,
Focus on the fundamentals. Focus on running.
You might not necessarily end up being at a place having just the perfect environment, track and equipment you'd need that might make you end up being cranky, so it is good to have your mind prepared beforehand. 
Have your focus directed towards just 'Running' and the post-run recovery (stretches etc.).

ORGANIZE YOUR TIME:
It is very necessary to have a fixed time for you to get up so that your specific 'me-time' might not affect your family's plans.
You might not be a morning person but here you would want to wake early so that when your travel buddies start to wake up, you're already done with your run.
Your morning is most likely to have the free time that you'd need, having the energy you'd need and having the will to make it through. Sounds perfect. Isn't it?
You don't want to skip a night out exploring the views just because you've a tempo run to complete!
Get up Early. Have your priorities aligned. Run in the start. Fun for the whole day.

KEEP IT VERY SIMPLE:
It is as simple as the heading. Having a training regimen can be managed whilst on a vacation as well. 
Instead of choosing to go for a scheduled run, just go for Fartlek instead. Instead of mountain repeats, consider a threshold run. Instead of opting for complications, make things simpler.
Simplify your runs/workouts having a consideration for the changing environment, energy levels, moods of other people accompanying you, facilities, schedule etc.
Structured workouts can be very hectic to manage whilst on a vacation, one can keep it simple by a change as simple as base runs!
You may feel a lot better after coming out of your vacation while still not losing an ounce of your fitness.

HOLISTIC APPROACH:
It's good to exercise and stay fit but what's healthier is to not just take care of physical health, but also to take mental and spiritual health into account. 
Adopting a holistic approach will let you relax yourself in all the dimensions and you'd end up having an amazing vacation with exactly what you needed.

So these were quite a few tips for running on vacation.
There are numerous reasons why one shouldn't stop running/ working out on vacation. It not only feels good on the body, but is actually good for your mind to relax and have some time off from the normal routine. 
Vacations always serve as a detox for one's soul and detox paired up with some physical activity is out to give the best results!
By inculcating some of the above mentioned tips, one can enjoy on a vacation whilst not having to compromise on the specific family time.
If one wishes, running and vacation can be taken simultaneously. A few tweaks here and there and you are good to go.
Your family will thank you, your body will thank you and you might just get some cherish able experiences throughout.
Definitely a win/win.